Ah, crown molding, your home's 'crowning' glory! When you cast your eyes skywards, you may be blessed by a glimpse of intricate, elegant crown molding.
These detailed interior features are a favorite among fans of the traditional design style. Not only are they a practical way to disguise transitions between different materials, but they're also a fashionable cover-up for your upper wall spaces.
The Low-Down on Molding
Not all moldings were created equal. From an interior design standpoint, it's worth noting that molding refers to any kind of trim, including those around your windows, doors, and baseboards. It's a strip of material that is effectively used to disguise the transition between two other textiles. While it's not necessary to create a smooth visual transition between, say, the edge of a wall and the adjacent hardwood floor, many homeowners find this attractive flourish adds to their home's classical appeal.
Molding comes in a vast array of shapes, sizes, and designs. Still, the two most basic molding categories are 'plain,' which has right-angled edges, and 'sprung,' with beveled edges. Molding can also be made of various materials, including wood, plastic, metal, plaster, and more.
Now that we understand the basics let's get a little more in-depth. Molding is the broadest category, and one of its offshoots is something called a 'cornice.' A cornice, from the Italian word meaning 'ledge,' is any kind of horizontal decorative molding that runs across the top of a building, or an architectural design element such as a window. Crown molding is considered a type of cornice. In contrast, cornices can be applied to an interior or an exterior; crown molding is only used inside.
If you are confused, here's a quick recap:
Molding = trim
Cornice = any decorative upper molding
Crown molding = cornice exclusively used for interior design
Crown molding is most common at the top of interior walls, but it can also be used on upper cabinets, over doors, and above windows. Basically, it is an attractive way to dress up your home's walls. It also has the pleasant side effect of drawing the eye upward and making rooms appear bigger and loftier.
Molding Makeover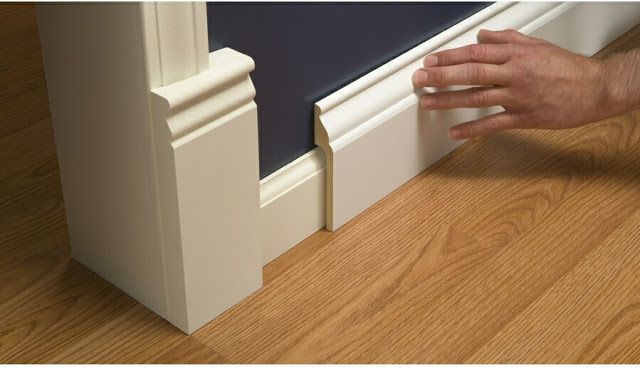 With its stately, elegant appeal, it's no wonder that homeowners love crown molding. It can make a great addition to upper kitchen cabinets, where their shapely flourishes help disguise the sunken look of open soffits.
If you have crown molding on your cabinets and it needs a refresh, there's no need to worry. Replacing crown molding on your cabinets is actually a lot easier than you might think.
Maybe your style of crown molding is starting to look a little dated or rough around the edges. The good news is that crown molding is not actually nailed to the upper cabinets, so it's simple to remove it for maintenance or replacement.
Wooden nailing strips are attached to the top of the cabinet, usually with nails or wood glue, and the crown molding is nailed to the strips. Because the strips are set back from the cabinet's edge, the crown molding covers it and sits flush with the face—not the door—of the cabinet. This will give the finished product a clean, seamless appearance.
Replacing crown molding is a relatively simple process, but it's one that requires precision and careful attention to detail. Exact measurements are necessary to make the nailing strips and crown molding pieces fit together like a puzzle, and clean cuts will make the cabinets look smooth and perfect when finished. With the right tools, a steady hand, and a little patience, your crown moldings will look good as new!
Scheduled Repair
Here's the best part: if you don't feel up to the task of tackling the cabinet's crown molding yourself, J.T. McDermott Remodeling is ready to get the job done. Our new scheduled home repair service helps you keep your home in tip-top shape! Whether you need of a one-time fix, ongoing maintenance services, or a seasonal semi-annual home checkup, we are at your service.
The goal is to help you protect your greatest asset: your home. Regular repairs can help diagnose home issues early and nip them in the bud. Better yet, frequent maintenance will help you avoid the need for repairs altogether. Scheduled care is a simple, proactive way to ensure that your home is always looking great.
So whether you're after a cosmetic touch-up, a major overhaul, or just some good old-fashioned TLC, connect with us today, and let's talk about it.