The Heart of the Home, Redesigned
Dreaming of remodeling your kitchen? You're not alone. Kitchen and bath remodeling are some of the most popular projects with which we assist. All of our clients envision the perfect kitchen in their own way. Most agree, though, that they want a family-oriented space for cooking, entertaining, doing homework, and sharing good times with the ones they love.
At J.T. McDermott Remodeling Contractors, our award-winning design team understands the many uses of today's kitchens. We work with you to create a layout that optimizes the room for family and friends while functioning efficiently.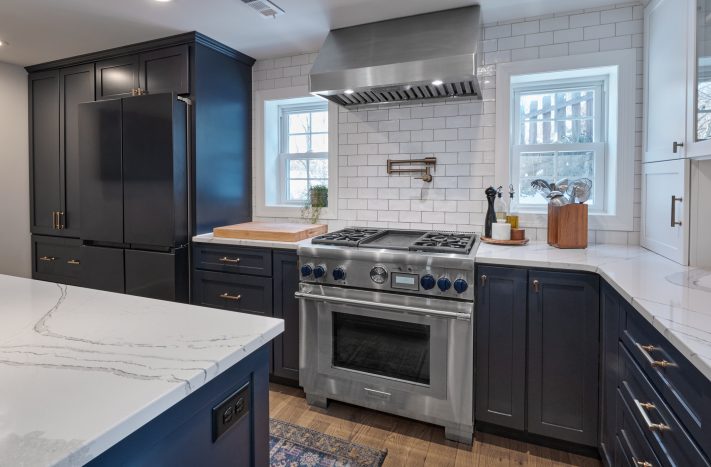 Our Kitchen Remodel Approach
We believe a beautiful and functional kitchen ties together the entire home. Our kitchen remodeling goal: to design and build your dream kitchen while making the process as enjoyable as possible and also respecting your budget. Your entire team – from designers to project manager and quality craftsmen – brings years of knowledge and experience to the table. They know how to combine creative vision, expert space planning, and innovative building methods to provide the happiest outcome.
Of course, we do more than design and build. We're here to guide you through the entire process. We help you make important kitchen remodeling choices and decisions, like working hand-in-hand with our designers to select the right cabinets and countertops, backsplashes, tiling, flooring, lighting, and more. You can count on us to keep you – and your project – on the right track. We want you to relax and enjoy the ride, while we take care of the details.
Space planning is a major consideration for any kitchen remodel. Whether you want to expand the original footprint, provide more prep areas, maximize your storage, or open the space to other rooms, we will work together to plan it out in advance. Add to that key appliance placement, lighting, flooring, and cabinetry, and you'll soon realize there's a lot that goes into turning your vision into reality.
Our remodeling process takes every step into consideration. At our initial home visit, we sit down with you and work to figure out how your new kitchen can better reflect your family's lifestyle. Do you express your creativity through meal planning and home-baked treats? Do you enjoy hosting large get-togethers or elegant parties? Do you want to create an easy flow from indoors to an outdoor living space? We'll take your kitchen remodeling ideas and turn them into the family space you've always dreamed about. We even provide you with 3D renderings so you can see what your new kitchen will look like before we get started.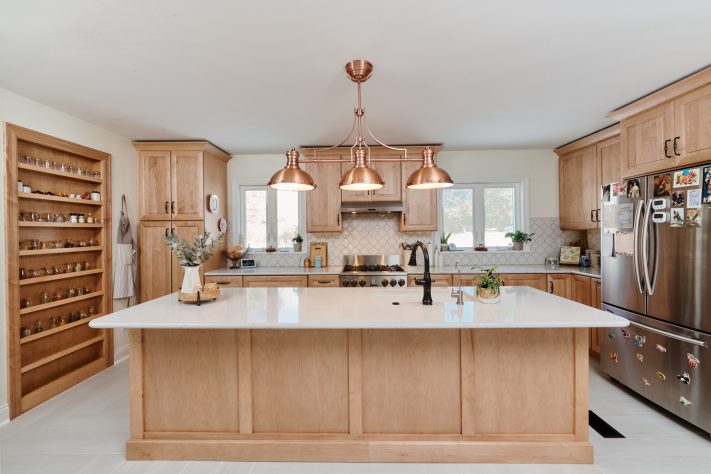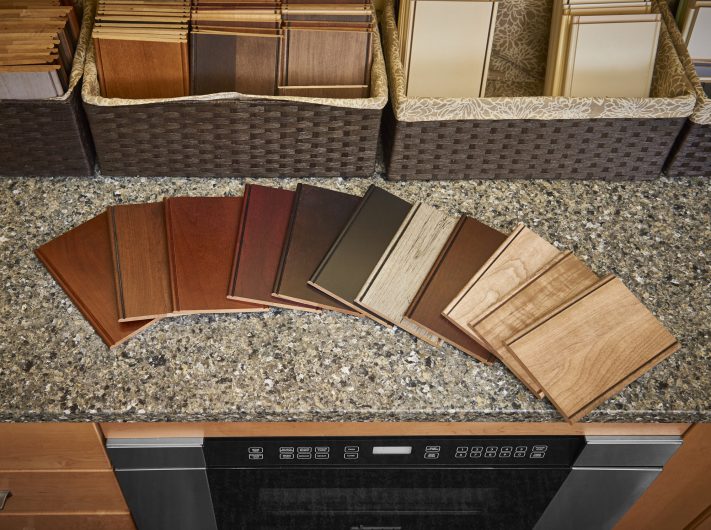 A kitchen remodel can be one of the most rewarding home improvement projects — and among the most disruptive to your family's life. It's likely your kitchen is already the hub of the home, so there's bound to be a sense of displacement. In addition to all the detailed decisions that come with the remodel itself, it's a good idea to also have a plan for how you'll deal with life's details. We believe a good place to start is creating an alternative space that can be used for cooking and eating while the process is underway.
During construction, we regularly communicate with you both in person and through Buildertrend™ to keep you informed and updated on the work's progress and to answer any questions you have. Our designers work with you one-on-one to select cabinetry, fixtures, finishes, and appliances based on your needs and budget. Our goal is simple: to make the decision-making process exciting and enjoyable, not overwhelming. For more than 20 years we have established trusted relationships with suppliers throughout the St. Louis Metro area who value quality and craftsmanship as much as we do. We feel confident in recommending these businesses to you.
From traditional to modern home remodeling, galley-style to expansive kitchen additions, we've done it all. For your own kitchen design and remodel inspiration, we invite you to take a look at some of our completed kitchen remodeling projects. Or browse our bath project gallery if you're interested in a bathroom remodel.
Here's what our satisfied clients are saying
All of the employees and subcontractors we worked with were very nice and courteous. We were incredibly pleased with the results of our several small jobs and would highly recommend J.T. McDermott Remodeling.
J.T. McDermott is reliable and available very quickly. Any problems are quickly resolved. They look out for their customers.