If you've encountered a dilemma when it comes to choosing the right kitchen countertop, you're not the only one. Let's face it, the countertop is one of the first things you see when you walk into the kitchen. It only makes sense that you want it to look good.
But aesthetics alone isn't enough of a reason to choose your new countertop. You also need something that stands up against daily wear and tear and regular cleanings, something that's easy to care for and doesn't stain, crack, swell, or rot. You need your countertop to work as hard as you do.
Plus, you need to take your budget into consideration. What are you willing to pay for a countertop that looks great and serves you well?
To help you figure it out, we've compiled a list of our favorite kitchen countertop materials. To organize our list, we've broken the rating system down into three categories: look, utility, and budget. We'll be ranking each material in those three criteria, on a scale from one (worst) to 10 (best).
Let's get started!
Quartz Countertops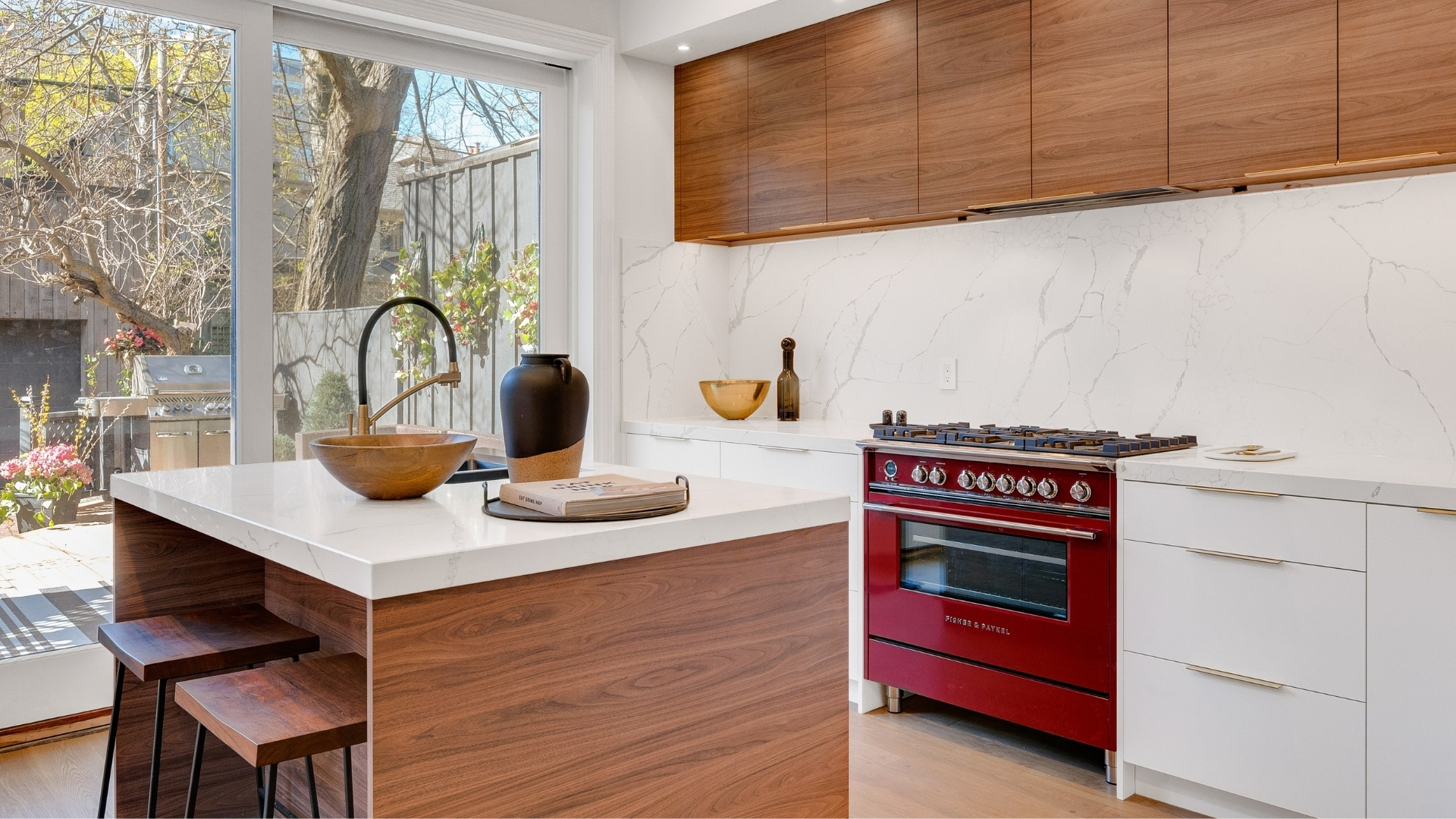 Quartz makes for a gorgeous stone countertop, and it's no mystery as to why homeowners love it so much. Made from engineered stone that's reshaped from leftover quarry material, quartz differs from natural stones because it doesn't suffer from cracks or flaws. It's heat and stain-resistant, and it's only potential weakness is highly caustic substances, like bleach. Quartz doesn't require sealing, it's easy to clean, and comes in a stunning array of colors, patterns, and styles.
Quartz can be significantly more expensive than other options—solid surface and tile in particular—often ringing in between $50 and $200 per square foot installed. But you can still reap the financial reward if you choose to invest. Prospective homebuyers will often pay more for a kitchen with quartz countertops.
What's The Score for Quartz?
Look: 9

Utility: 9

Budget: 6

Total: 24/30
Granite Countertops
Granite is a timeless classic that never seems to go out of style. Because it is a natural stone, no two slabs of granite will ever be exactly alike, so you can be sure you're getting a one-of-a-kind piece. It is almost impossible to do heat damage to granite, but it is a somewhat porous stone, meaning it is susceptible to stains and spills. However, this can be rectified with regular sealing. If it is well-cared for, granite is very durable.
Like quartz, it is also a more expensive investment, ranging from $50 to $300 per square foot installed. But, like quartz, the price tag will often pay off in ROI.
What's The Score for Granite?
Look: 10

Utility: 7

Budget: 5

Total: 22/30
Solid Surface Countertops
This textile is entirely man-made, combining several synthetic materials to create a durable, functional, and budget-friendly countertop. Although solid surface does stain and scorch, these marks can be buffed out relatively easily with a bit of sanding.
Solid surface typically costs between $30 and $90 per square foot, installed. Though not quite as luxurious as its stone counterparts, it is nonetheless a favorable choice for homeowners (and buyers).
What's The Score for Solid Surface?
Look: 6

Utility: 5

Budget: 9

Total: 20/30
Tile Countertops
Ceramic and porcelain tiles are beloved for floors and backsplashes, but how do they fare as a countertop material? Tile is extremely dense, making it resistant to water absorption, burns, scorches, and stains of all kinds. This makes it super simple to clean and care for. Unfortunately, the same can't be said of the grout that seals the tiles. Grout can become grimy and discolored and requires a lot of upkeep to stay looking fresh. Plus, it's an absolute magnet for stains.
However, we have to give points where they're due. Tile, especially ceramic, is quite budget-friendly. Depending on your choice, it can cost anywhere between $1 and $30/square foot just for the material, and you can generally expect porcelain to cost around $3 more per square foot than ceramic. Labor will run you an additional fee, but the nice thing about a tile countertop is that you can install it yourself if you're handy.
What's The Score for Tile?
Look: 3

Utility: 6

Budget: 10

Total: 19/30
Despite a close race, it seems that quartz comes out on top, ranking well in all three categories. Of course, just because we gave it high props doesn't mean it's the right choice for you. Connect with us today, and we'll help you find a countertop you'll love!