Is aging in place the best option for empty nesters? The data would seem to say so. Nine in 10 American seniors say they intend to stay in their current homes over the coming five to 10 years.
The Benefits of Aging In Place
According to a survey by The United States of Aging, seniors cited various reasons for staying in their home. Eighty-five percent said they loved their current homes and neighborhoods; 66 percent enjoy being close to friends and family; 50 percent want to avoid the trouble of moving. But there's one thing in the survey that most baby boomers seemed to agree on: they all feel confident they would be able to age in place without making any major modifications to their existing home.
Aging in place isn't just possible—it's preferable!
After a lifetime of hard work, now is the time for you to reap the fruits of your labor. You've spent years becoming part of a community, and your house isn't just a place to lay your head at night. You deserve to spend your golden years in safety, familiarity, and comfort.
Getting older means growing wiser… but it also comes with a few minor drawbacks, such as diminishing vision and mobility. Let's face it—we're just not as young as we once were, and some household activities put excessive strain on the old bones. Not to worry, though. There are some easy modifications that can accommodate any additional needs you may have.
Here are a few ideas:
Bathrooms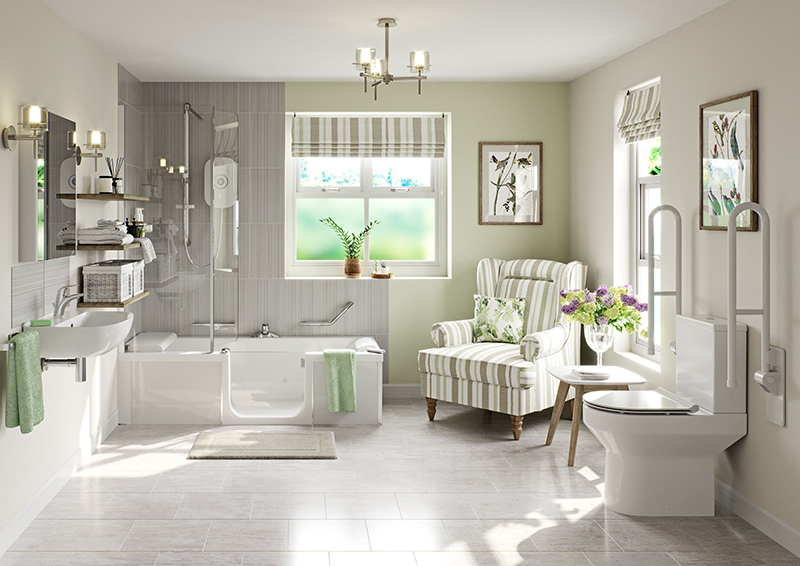 Bathrooms can be a bit hazardous for even the most fleet of foot—which unfortunately means that they pose an extra danger to older adults. Believe it or not, the bathtub is a big source of boomer bang-ups! Nearly a third of all senior injuries occur while bathing, entering, and exiting the tub. While a hot bath or shower may be just the thing after a long day, high-sided tubs and even shower pans can be slick, and it's easy to become destabilized by putting a foot wrong.
If you're fond of baths, a walk-in tub is an excellent investment, as it makes bathing much safer and easier for folks of all ages and abilities. The tub itself is much higher than a traditional bathtub, with a door in the side for easy access. Instead of precariously stepping in, there's a small lip, only a few inches tall, and a comfortable, non-slip stool for sitting while you bathe.
If showers are more your style, consider replacing your shower curtain with a glass door. In the event of a slip, a door can offer you much more support and stability, decreasing the chance of injury. A waterproof chair paired with a grab bar also increases safety inside the stall, and anti-slip mats serve you well on the bathroom floor.
Lighting
Good lighting does more than just make your home look attractive and inviting; it also protects your personal wellbeing. As we get older, our eyesight isn't quite what it used to be, especially at night. Fortunately, there are lots of solutions that shed light on the situation.
While bare bulbs tend to cast more light, their intensity and glare cause big problems for aging eyes. Consistent, balanced lighting is crucial for mature residents, as older eyes take time to adjust to different light intensities. Plenty of ambient and task lighting is preferable, and fixtures should be placed within arms' reach, so bulbs are easier to change without the risk of falling. Lights with higher lumens help illuminate your home without blinding you.
Flooring
Don't let your flooring choices to trip you up! Flooring materials can be surprisingly hazardous, so be sure to lay the proper groundwork for aging in place. As a general rule, it's better to have fewer transitions between flooring types as they can cause slips and trips. Plus, a smoother floorplan makes the space look roomier and more cohesive.
When choosing a new type of flooring, elect for something smooth without being slick. Vinyl is a good choice in this department. Carpets are another excellent choice, as they're well-cushioned in case of falls. We recommend something with a tight weave that's not too fluffy. It's best to avoid area rugs with loose corners, as they tend to slide around underfoot.
With just a few updates, you can make your family home the perfect place to grow old. When you're ready to bring new life and function to your aging house, J.T. McDermott is here to help. Our design and build team make it easy for you to live safely and comfortably in your golden years, so give us a call, and let's get started today.