We are J.T. McDermott Remodeling Contractors, a design build home remodeling firm.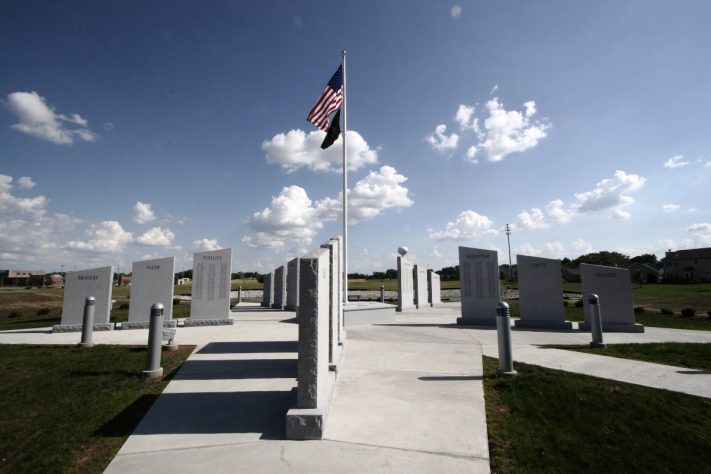 City Facts for O'Fallon IL
O'Fallon, one of the fastest growing communities in the Greater St. Louis area, is a city rich in history and one of the area's most popular places to live and work. Located a short 15-minute drive from downtown St. Louis, its nearly 30,000 residents include many personnel from nearby Scott Air Force Base. The former coal mining town, a sister city to O'Fallon, MO, is well-known for its mix of small-town friendliness and community pride.
Native American settlements date back centuries here, with the first modern settlement made in 1802. Early residents were attracted by the rich land that was well-suited to agriculture. In 1827, John Mason Peck established Illinois' first college, Rock Spring Seminary in O'Fallon. Over the next 25 years, coal mines sprung up and the Ohio & Mississippi Railroad was built. The first public school was built in 1861, the Community Park was dedicated in 1924, and the public library opened in 1930.
O'Fallon residents are ideally situated to enjoy all that downtown St. Louis has to offer, but the city has several attractions and events of its own. The O'Fallon Historical Society features locally-themed exhibits and the O'Fallon Veterans' Monument features an interactive kiosk that provides a brief history of each veteran included in the memorial. The city has eight popular parks, including Hesse Park, Rock Springs Park, and St. Ellen Mine Park with its many walking and biking paths and small fishing lake.
Kitchen & Bathroom Remodeling in O'Fallon, IL
At J.T. McDermott Remodeling Contractors, we've been creating comfortable living spaces in O'Fallon and the surrounding areas for over 20 years. Our services include:
Kitchen design and remodeling
Bathroom design and remodeling
Basement remodeling
Whole House remodeling
Home Additions
Outdoor Living / Sunrooms
Commercial Remodeling
Historic Restoration and Renovation
Our bathroom and kitchen design process combine the talents of an in-house design team with skilled craftspeople who together bring an unmatched level of professionalism and respect to every remodeling project they do.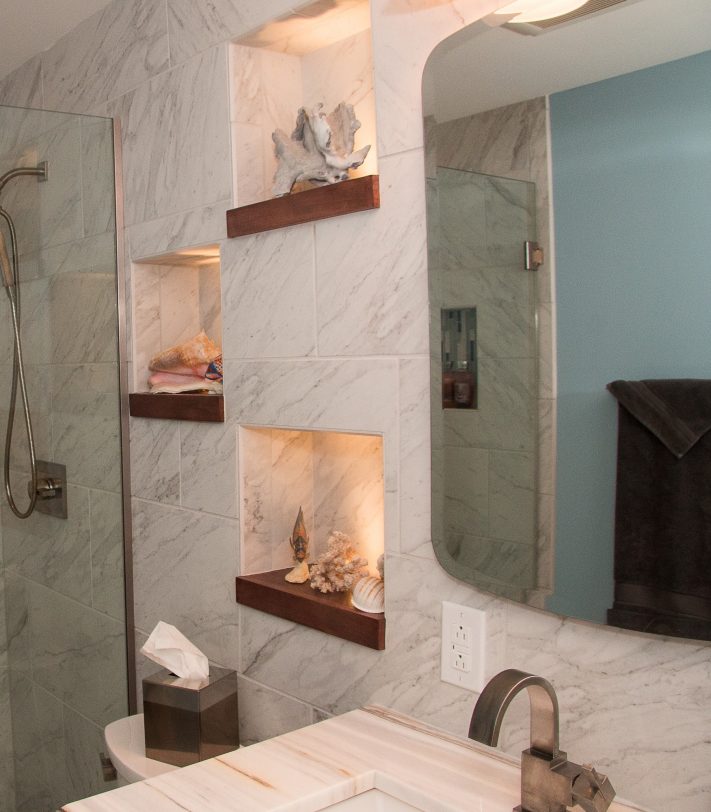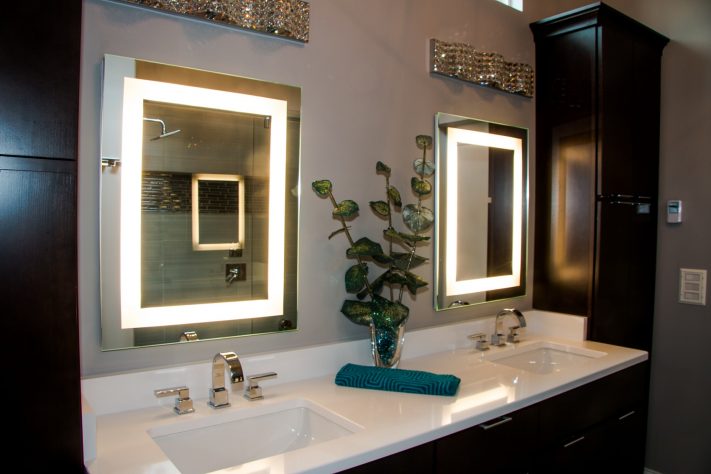 One of the most used rooms in the home, a great bathroom should be more than functional and comfortable; it should be beautiful to look at and designed with your family's needs in mind. We offer bathroom remodeling design services that are second to none in the Greater St. Louis area. Our team is experienced in a wide variety of bathroom designs, encompassing everything from classic to modern, small to large, and simple to ornate.
Our bathroom designers will show you how to get the most out of your available space and work closely with you to ensure your bathroom fits your needs and vision. Whether you're looking to update a powder room or add a master suite bath, we're here to make it happen. From initial consultation and design to installation and completion, we know how to make your bathroom remodel a stress-free, fun experience.
Is your O'Fallon IL home ready for a kitchen remodel? Remodeling a kitchen, even a small one, involves a lot of design decisions. A well-designed kitchen is functional, adds value to your home, and creates an inviting space for family and friends to spend time and create memories. Our kitchen design team will walk you through the many available options and show you how easy it can be to bring your new kitchen to life.
Every kitchen remodel we do is carefully thought out and creatively realized. Our designers consider aesthetics, ergonomics, and practicalities, but never compromise on beauty and appeal. Whether you're looking to upgrade the kitchen you have or dream of a total kitchen remodel, our design process helps you plan all the details. From storage to layout and appliance placement, our kitchen designs emphasize function, technology, and style.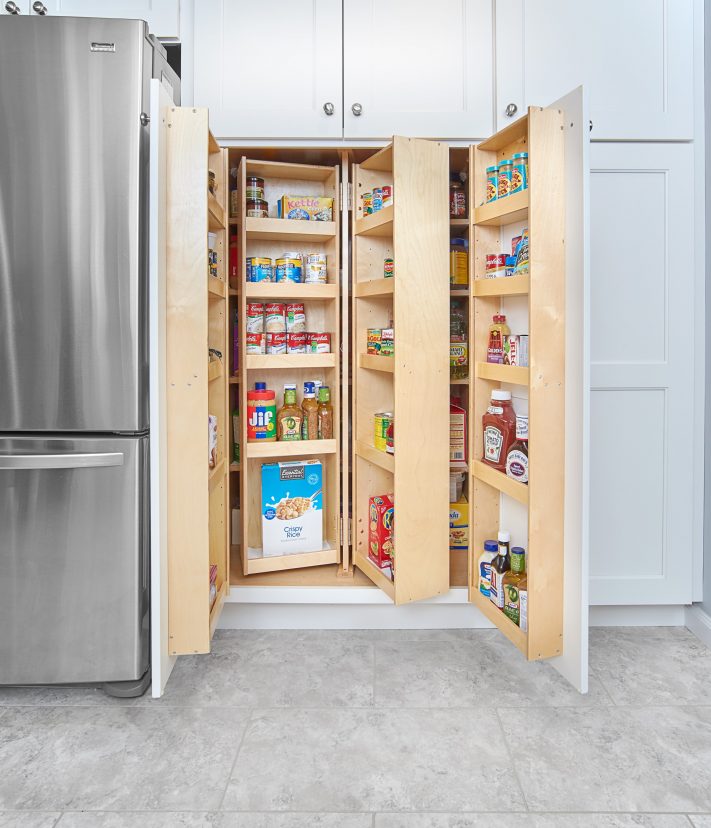 J.T. McDermott Remodeling Contractors is a family-owned business with more than 20 years of experience in the Greater St. Louis Metro area. We're proud of the recognition we've received for our work, but what we cherish most of all is our reputation and the testimonials we've received from our happy clients. Knowing they appreciate and enjoy the work we've done for them means everything to us. Our goal is to welcome every homeowner we work with into our family, building lifelong relationships that are true friendships.
If you're a homeowner in O'Fallon, IL or the surrounding Greater St. Louis area interested in a kitchen, bathroom, or whole house remodel, we encourage you to give us a call. We'll help you explore a world of exciting remodeling options that will give you the home you've always dreamed of.
Here's what our satisfied clients are saying
We were very satisfied with the service we received from McDermott Remodeling from start to finish. Working with Megan on the design was a joy as was working with lead carpenter Phillip during construction. There was always good communication, a clear schedule of events to follow, care to protect our hardwood floors, and quick follow up to any of our questions or concerns. We highly recommend McDermott to anyone needing to remodel their home.