We are J.T. McDermott Remodeling Contractors, a design build home remodeling firm.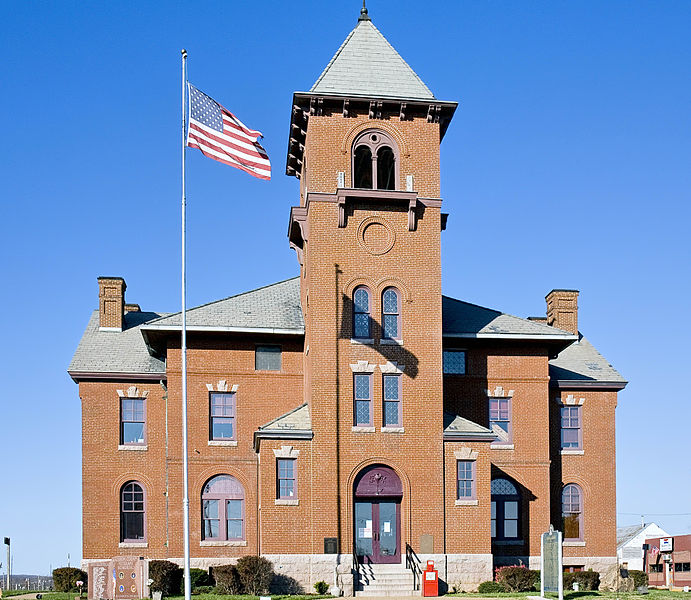 Regional Facts About Madison County, MO
 Rolling hills, verdant farmland, forests, creeks, rivers, and lakes – this idyllic community in the foothills of the Ozarks forms a dome around the Saint Francois Mountains. It is easily the most mountainous region between the Appalachians and the Rocky Mountains.
Formed in 1818, Madison County was named for President Madison. Its county seat is Fredericktown, named for Captain George Frederick, who was an active statesman at the time. As of 2018, the estimated population of Madison County is 12,188, and its low-density development and affordable housing costs make it attractive for many people in search of a less hectic way of life.
Though it's a low-key, easy-going part of our state, it's had its proverbial fifteen minutes when it was made famous by the 1995 Clint Eastwood and Meryl Streep film, The Bridges of Madison County.
Since 1993, J.T. McDermott has been building a legacy in Madison County, providing exceptional kitchen, bathroom, and whole-house remodeling services that are both affordable and reliable. Over the years, we've established a reputation for excellence and reliability, and we continue to support our customers with home improvement ideas they have come to rely on.
Just some of the home renovation services we offer include:
Whole-House Remodeling
Room Additions
Sunrooms
Kitchens
Bathrooms
Decks and Outdoor Living
Finished Basements
Attic and Garage Conversions
And So Much More
No matter what kind of home improvement project you are planning in Madison County, our design-build team is ready to help.
Kitchen Remodeling in Madison County, MO
Kitchen remodels in Madison County are extremely popular. Whether you are upgrading to take advantage of new appliances, technology, or contemporary features, or opening up some walls to enjoy open-concept living, we've got design and layout ideas you will love.
For most families, the kitchen is the heart of the home. Today, it's no longer just for cooking – it's a place where friends gather, and the family comes together. We eat in the kitchen, do homework, catch up on current events, and enjoy a relaxing glass of wine at the end of the day. Contemporary kitchen design accommodates all these activities, and more besides.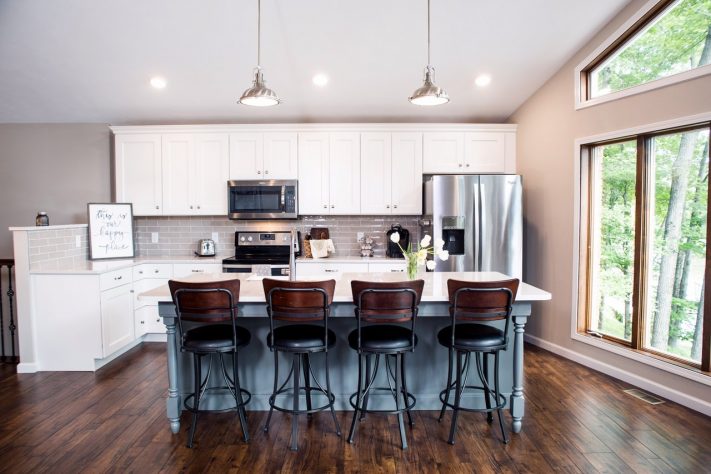 No matter what your style might be, we will work with you to design the perfect kitchen for your lifestyle.
Popular kitchen upgrades include:
New Custom Cabinetry
Reface or Replace Cabinets and Drawers
Flooring
Kitchen Islands
Breakfast Nook
Banquette Seating
New Kitchen Layout
Connected Smart Appliances
Open-Concept Design
Whether you're looking to improve traffic flow, increase storage capacity, or generally make your kitchen layout more efficient, we've got solutions you can count on.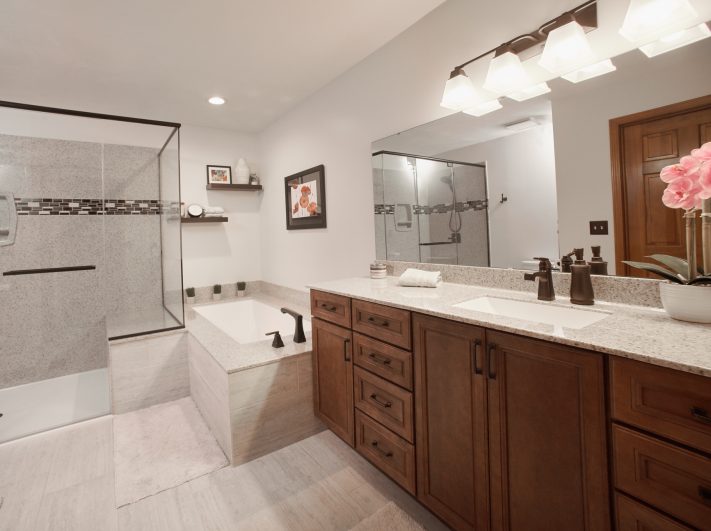 Bathroom Remodeling in Madison County, MO
Your bathroom is a necessary part of your life. In addition to being functional, it can also be a personal oasis, adding a touch of luxury and comfort that enhances your everyday lifestyle.
Our designers have remodeled hundreds of bathrooms in Madison County. We work closely with you to discover your unique style preferences, making the entire process as enjoyable and stress-free as it can be.
Whether you want to enlarge a master suite, add a powder room, a hall bathroom, or a Jack and Jill for the kids, we will work with you to help you choose the ideal colors, finishes, fixtures, and lighting.
Bathroom remodeling ideas can include:
Maximize The Layout
Increase or Add Storage
Modernize The Design
Add or Enlarge The Shower
Custom and Imported Tile
Lighted Mirrors
Under-Floor Heating
Heated Towel Racks
Steam Showers
Universal Design
And Much More
Are you looking for inspiration? Visit our featured projects page to see what we've been working on lately, or give us a call to schedule a visit.
Our Goal is Your Satisfaction
At J.T. McDermott, we value relationships above all else. We are proud to say that many of our customers have been with us for years and continue to recommend us to their friends and family.
Our design-build process is designed with you in mind. We work closely with you from the start so we can understand your ideas and goals as well as your style preferences. We'll have many conversations about your home improvement project before we begin because we know how important it is for you to love where you live.
There is nothing like the feeling of walking into your home and knowing that you're exactly where you're supposed to be. Reach out today to learn more about our kitchen remodeling, bathroom remodeling, and whole-house renovation services. We'd love to show you what's possible.
Here's what our satisfied clients are saying
McDermott Remodeling put a covered patio with footings for three new support posts, frame new roof planes, new ceiling fan, install new roof to addition and matched existing shingles. They also installed gutter system to new roof addition, finished ceiling under roof addition. We found McDermott Remodeling to be very professional and explained everything to us that was being done. They were also on time and cleaned the area each day. We would recommend them to anyone.