We are J.T. McDermott Remodeling Contractors, a design build home remodeling firm.
City Facts for Kirkwood, MO
Once known as the "queen of the suburbs," Kirkwood, MO still maintains a regal attitude that is more small-town charm than showy high society. Families flock to the city to take advantage of its respected schools, many houses of worship, and a feel-good neighborly atmosphere. Visitors and residents alike find plenty of recreational, shopping, and dining options, most of which are within easy walking distance of the city's center square. Famous for its historic train station and fabulous farmers market, Kirkwood is a fun-filled city with plenty for everyone.
Located just 13 miles from downtown St. Louis, Kirkwood has plenty to offer a family that choose to make a life there. There's a wide variety of architectural home styles, including ranch-style, Victorian, Colonial, and charming Craftsman structures. The city spans 16 square blocks and is an attractive, pedestrian-friendly area filled with specialty shops and restaurants. In addition to the popular farmers market, residents cool off at the Kirkwood Aquatic Center and take leisurely strolls down by the Meramec River in Emmenegger Nature Park.
The area is also home to The Magic House, St. Louis Children's Museum which houses hundreds of hands-on exhibits; the Museum of Transportation, with its more than 70 locomotives; the 98-acre open-air museum, Laumeier Sculpture Park; the Powder Valley Conservation Nature Center, with its paved hiking trails; and Mudd's Grove, the historic 1860 Greek Revival home that now houses the Kirkwood Historical Society museum and library.
J.T. McDermott Remodeling Contractors is a design build firm that's been designing and remodeling kitchens, bathrooms and performing historic renovations for Kirkwood homeowners for over 20 years. Our home remodeling services also include:
Basement remodeling
Whole House remodeling
Home Additions
Outdoor Living / Sunrooms
Commercial remodeling
Mine Subsidence
Whether you're remodeling your Kirkwood, MO home's kitchen, bathroom or doing an historic renovation, we'll help you design and build the home you dream of. Our extensive experience over the years has resulted in countless home improvement projects we are proud to showcase.
Bathroom Remodels in Kirkwood, MO
At J.T. McDermott, we believe that good bathroom design is "invisible." In other words, it has everything you need and nothing you don't. Who doesn't dream of a designer bathroom that offers a positive start to the day and a simple bedtime ritual? Whether you're thinking of a full-on spa, or a simple, relaxing place to unwind, our in-house design team helps you select the fixtures, finishes, cabinetry, and other features that are ideal for your family's lifestyle.
We believe we offer some of the best bathroom remodeling services in the Greater St. Louis area. For over 20 years, we've used a design-driven approach to create a wide range of custom bathrooms. All our projects are run in a professional way that guarantees you'll have an enjoyable remodeling experience. We also provide detailed 3D renderings of your new bathroom, so you know exactly what to expect before construction even starts!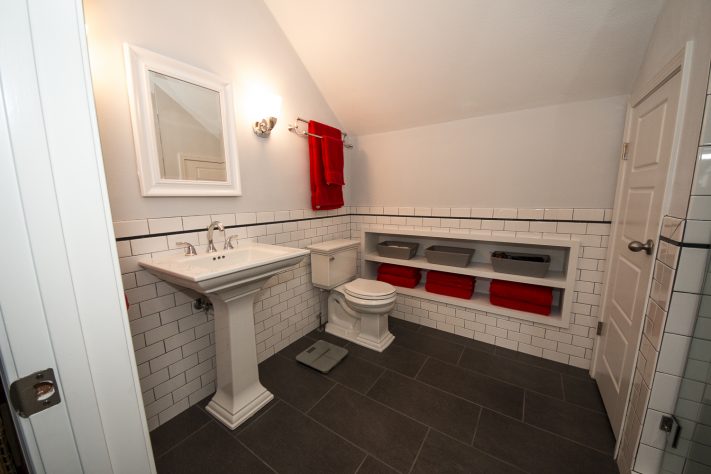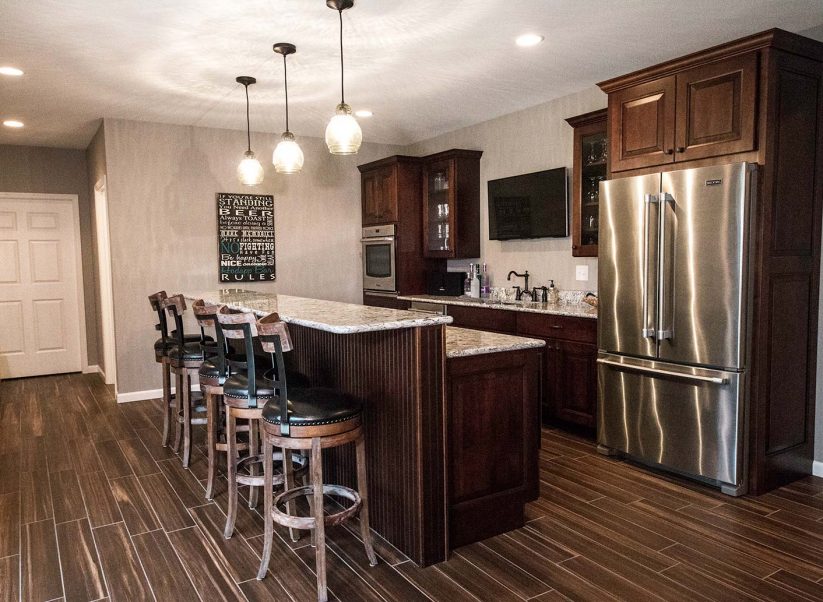 Kitchen Remodels in Kirkwood, MO
J.T. McDermott Remodeling specializes in kitchen remodels in the Greater St. Louis area. We deliver an exceptional remodeling experience by putting our clients first. Communication is open and ongoing, disruption is minimal, and project management focused on every detail. We're proud to work with the area's most highly-skilled craftspeople, who our clients often describe as true artists!
Whether you've always longed for a chef's kitchen or are looking to convert separate rooms into a kitchen, dining, and entertaining space, our kitchens are designed and built to meet your expectations and lifestyle. Our designers guide you through the myriad of choices in cabinets, countertops, and flooring, and show you how proper lighting design and accessibility considerations can make your kitchen function best. We're with you all the way!
Historic Renovations in Kirkwood, MO
We have a passion for period architecture and welcome the opportunity to provide our expert assessment and renovation services for your historic Kirkwood, MO home. Our extensive knowledge of and experience with historic Kirkwood residences enables us to restore, recover, and/or reveal the architectural design and fabric of your home's particular period, while protecting its heritage value.
We have extensive experience with the area's regulations and restrictions for historic structures, and we can help you easily and quickly navigate the approval process. We also have experience with putting together formal presentations to various neighborhood groups and city officials.
We can photograph and document all the necessary details and will work to recreate exact replicas of the finest of details:
Textured walls
Millwork and crown moldings
Period specific cabinetry or custom built-ins
Architectural trim
Vintage lighting and other historically accurate fixtures
A historic renovation or restoration provides you with an opportunity to add new luster, functionality and appeal to your older home. J.T. McDermott takes great pride in being part of any historic renovation project throughout the Greater St. Louis area. While we're proud of the recognition we've received for our remodeling and renovation work, what we cherish most is our reputation and the testimonials we've received from our happy clients who love the work we've done for them.
Our goal is to welcome every homeowner we work with into our family, building lifelong relationships that are true friendships. If you're a homeowner in Kirkwood, MO or the surrounding Greater St. Louis area interested in a kitchen or bathroom remodel, historic home renovation, or any other remodeling project, we encourage you to give us a call. We'll help you explore a world of exciting remodeling options that will give you the home you've always dreamed of!
Here's what our satisfied clients are saying
We had the first floor of our two story home remodeled. This included a kitchen, dining room, living room, laundry room, powder room and hallway. We had all the windows and exterior doors replaced as well. This was a large project and it was completed in a very timely fashion, with all project deadlines met. From the initial estimate to the walk through at the end, everyone with JT McDermott Remodeling were wonderful. They're very knowledgeable, respectful and professional. Ron, our Project Estimator, helped us stay on budget and even presented us ways we could save money by offering alternate options. Brittany, our Project Designer, made the material selection process very easy and gave us confidence in our selections. Rob, our Project Manager, was on site daily, always kept us informed and took care of any questions or concerns we had. We lived in our home during the process. The workers kept their mess to a minimum and cleaned up every day. We are extremely happy with our new first floor. If you're looking for quality work at a fair price with trustworthy and friendly people, you should look at JT McDermott Remodeling.